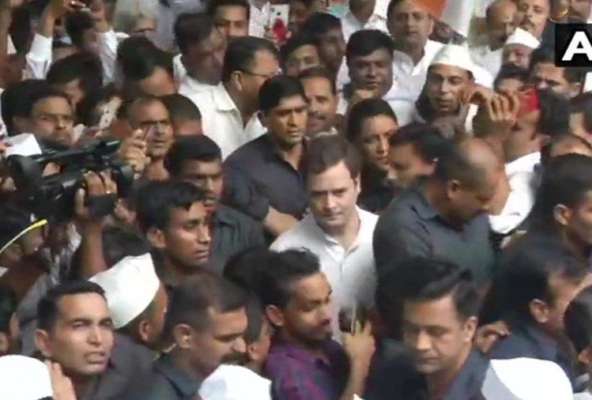 Today the whole country and the world is celebrating the 150th birth anniversary of Mahatma Gandhi. On this occasion, the Congress is taking a padyatra. Which has been named Gandhi Sandesh Yatra. The yatra is being carried out under the leadership of former Congress President Rahul Gandhi. For which Gandhi has reached the office of Delhi Pradesh Congress Committee.
Thousands of activists have joined the march from the Congress headquarters to Rajghat, wearing white clothes and Gandhi caps on their heads. Sonia will reach Rajghat directly due to health reasons. At the same time, General Secretary Priyanka Gandhi will lead the march in Lucknow. On the occasion of Bapu's 150th birth anniversary, Rahul Gandhi said that the Father of the Nation has shown how love and non-violence is the only way for all living beings that we can defeat bigotry and hatred. On Tuesday morning, Sonia Gandhi and former Prime Minister Manmohan Singh went to Rajghat and paid homage to Mahatma Gandhi.
Rahul Gandhi wrote on Twitter, 'My tribute to Mahatma Gandhi on the 150th birth anniversary of Mahatma Gandhi. The Father of the Nation who through his words and deeds showed us that love towards all living beings and non-violence is the only way to defeat oppression, bigotry and hatred. '
Union Minister Giriraj Singh has been taunted on this march of Congress. He has instructed Congressmen to revolve around Rahul Gandhi. He wrote on Twitter, 'Congress is traveling on the post of Gandhi ji's birth anniversary. Instead of Rajghat from Congress office, Congress should do Rahul Gandhi's circumambulation, his post journey will be completed.
From today BJP has started Gandhi Sankalp Yatra. The visit was flagged off by Home Minister Amit Shah. Addressing the people at the program, he said that I want to tell crores of activists across the country that Gandhi 150 should be a year of resolve for all of us, Gandhi 150 should be a year of taking the nation forward one step.