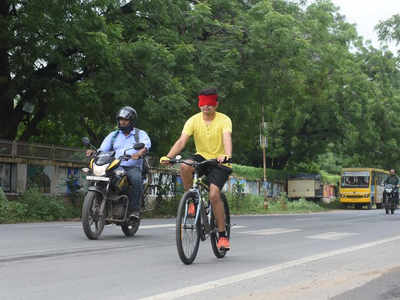 As part of the Fit India Movement, a third-year automobile engineering student rode a bike covering 26 kilometre from Mahatma Mandir in Gandhinagar to Gandhi Ashram in Ahmedabad. The unique thing about Jeet Trivedi's bicycle ride was that he rode blindfolded during the entire journey.
For Trivedi, attempting something blindfolded is nothing new. He has skated on road for 4.8 km with a blindfold while dribbling a basketball and has also driven on the highest motorable road in Leh blindfolded.
Trivedi, whose feat on Tuesday of cycling blindfolded was recorded in the World Records of India, said that he first attended a workshop in Surat about the same. "At that time I was curious. But that was six years ago. Since then I have been practicing regularly with a blindfold and I don't find it difficult as others may think," said Trivedi, who belongs to Bhavnagar but is studying at LD Engineering College in Ahmedabad.
He said he now teaches kids how to sharpen their senses through a blindfold and even helps blind and partially blind students. He believes that performing without the aid of one of your senses ends up sharpening other senses and does wonders for developing the sixth sense.
As for the cycling, Trivedi just bought the bicycle a few days ago before the ride. "I first practiced for 10 km, 15 km and then I cycled today for 26 km," he said. Apparently, It took him three hours to finish the 26km journey. He, however, did not know the route he was taking during the ride.
"In fact, I didn't know the way from Gandhinagar to Gandhi Ashram in Ahmedabad. But since I had other cyclists with me they would tell me to turn left or right as and when needed," said Trivedi.
He said that his fellow cyclists' have helped him sharpen his senses so much so that he was never afraid of hitting or crashing into anyone.